I noticed I'm getting some views... please leave some comments too.

Part 1

Check the back page of your manual for the correct amount of oil. The AWD version needs 6.8 quarts.
Things you'll need, include:
Every Time
7 quarts of 5W30 oil. - around 35 bucks(walmart); I used synthetic, it's cheaper if you use conventional oil.
Oil filter. - $6.55+tax(lexus dealer) Lexus Part #:04152-YZZA5; Wix Filter: 57173
Drain plug gasket. - got it for free, a pack of 3 similar ones was $2.33(local auto parts store)
Paper towels. - It gets messy no matter how hard you try

One time buy
Oil Filter Wrench - $3.26(walmart) Made by Imperial(65/67mm - 14 Flutes)
Latex gloves - Keep your hands clean, not required.
Eye protection. - Highly recommend this. Dirt and Oil can get in your eyes.
A pair of jack stands. - ~$20 for a pair(walmart).
Instead of jack stands you can buy a pair of ramps.
Oil pan(something to collect the old oil). - ~$10(walmart)
And a funnel. ~$1
Things most people have
Size 14 wrench - Lexus roadside kit
Scissor jack - in the trunk
3/4-inch socket wrench - you should have this
Screw drivers, flat head and phillips - phillips is in the Lexus kit
Old cardboard box split in half to lay down on.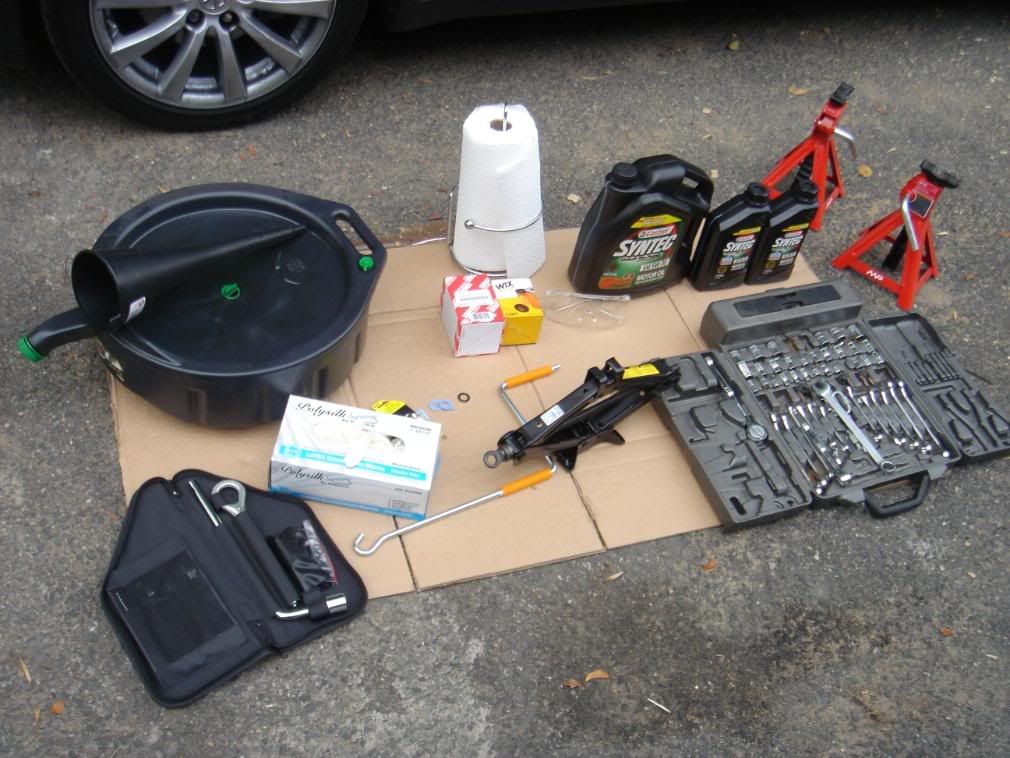 You'll need the phillips screw driver for the one screw on the plastic underbody filter cover. And a flat head one for many uses.
This is the official Lexus gasket that I was provided with
You'll need this cup thing(filter wrench) with the help of a socket wrench for the removal of the oil filter casing(metal). A 6" extension for the socket wrench helps a lot.
The filter on the left is the one you'll need. The one on the right is the wrong size and it only works for the RX350. If you do decide to go with WIX, the part number is 57173 - but keep in mind that at my local auto-parts store it came out to be more expensive - ~$9.
I chose to use the 5W30 Synthetic from Castrol. You can choose any other oil as long as it's 5W30.
If you want, you can check your oil level before starting, here's how to do it. Pull out the dip stick(on the right side of the car), wipe it dry and reinsert, then pull it out and look. It seems like the Lexus guys over filled my car. Your oil level should not be higher than the top mark. The distance from the top to the bottom mark indicates about 1 quart. So if your level is at the bottom, add one quart of the same oil from the same company.